Introducing Social Studio
Infotel's Social Studio is designed to promote hotels, B&Bs, serviced apartments and guest houses located in the UK. Working over a 12 month period, Social Studio is used to target business travellers and leisure seekers. It provides a range of marketing campaigns. It's where we stream, stage, show, and share all that your property has to offer guests. Social Studio is an ideal tool for hotel promotions.
How it works
In addition to receiving 100% commission free bookings, access to the Social Studio forms part of your Infotel membership. This is where we create marketing campaigns for your property or hotel group. You can chose to use some or all the campaigns listed below or we can work with you on a particular idea or focus you would like to feature.
Whichever campaigns you decide on, it all starts with your Infotel portfolio on the website.
This provides:
an unlimited image and word count to showcase your accommodation to business guests, essential workers and leisure travellers looking for a staycation
a detailed listing on the facilities and services available plus check-in/out information
a map, optional reviews, what's nearby and places to visit
rates and special offers, cancellation and refund policies
the Infotel LIVE booking portal for online reservations.
Your property's portfolio is important
Your Infotel portfolio is invaluable to our Social Studio team. Every campaign, every hotel promotion created by our marketing team, will link back to your portfolio. This provides leisure guests, business travellers, essential workers, social fans and followers with all the information and links needed to make a reservation.
This is the information our call centre reservations team rely on when recommending your place to stay to our business clients and potential leisure guests.
And it's what our web visitors will see when they look for accommodation in location searches. Your property will have priority over non-members in a 30 mile radius but it's important to provide as much content and as many images as possible. This is where you can really sell your guest rooms, restaurants and leisure facilities to people looking for this year's staycation and to an international market planning for future getaways.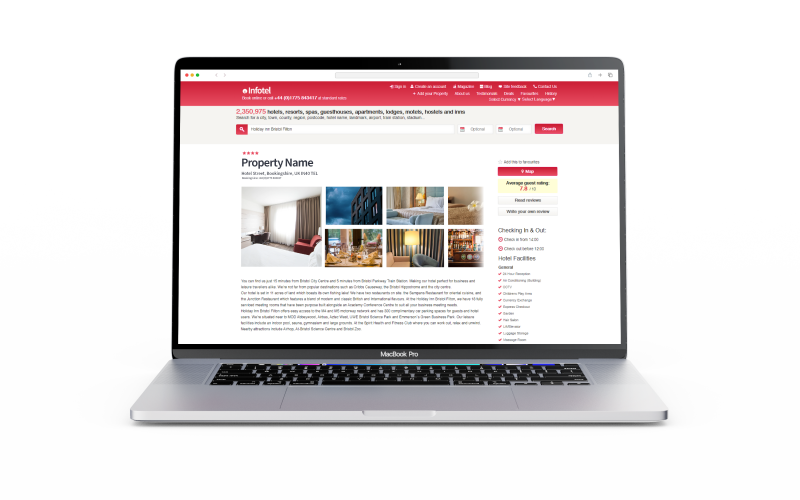 Getting social is so much easier with our Social Studio!

Example Social Showcase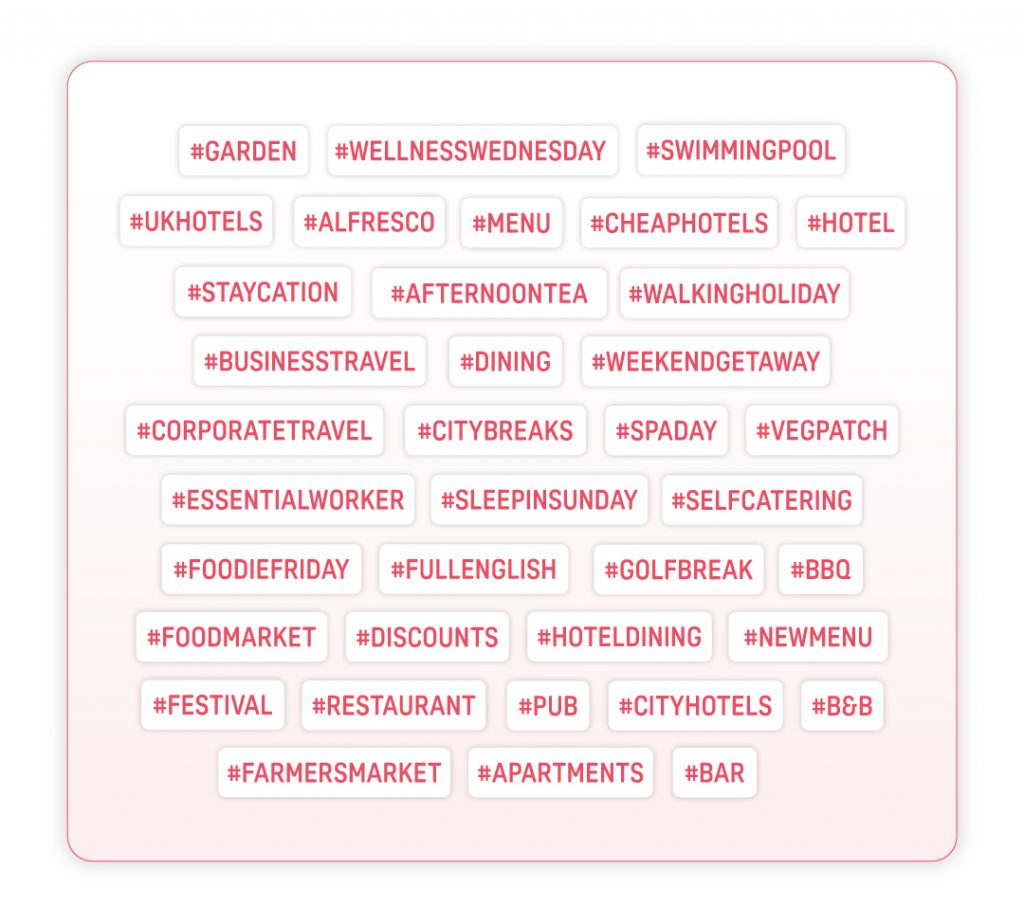 Don't miss out on popular trends (hashtags)!
Hashtags are a great way to get noticed and to distribute content across Facebook, Twitter and Instagram.
We promote your property by using existing social trends such as #staycation and #holiday. Or through creating a hashtag tailored to your own bespoke campaign.
There's nothing we love more than raising awareness of a property to the millions following travel and hospitality trends.


In addition to the trends mentioned, hashtags for specific seasonal events and occasions are good for promoting your property too.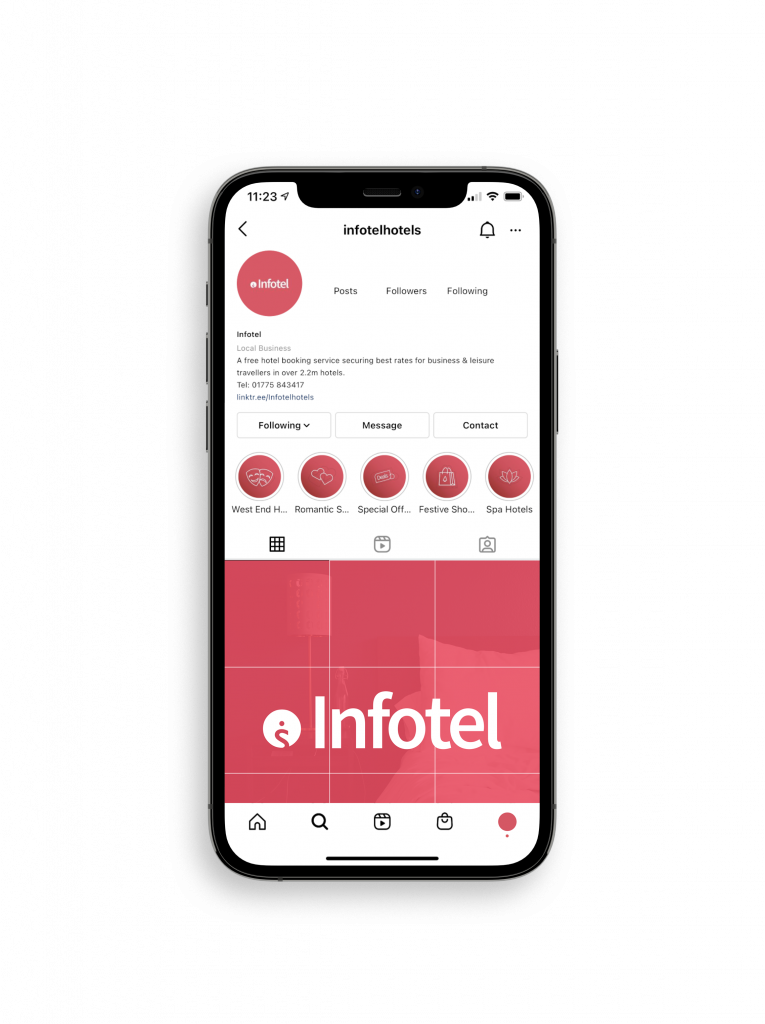 Our social takeover with Social Studio does exactly that!
It's a whole day of social media posts dedicated to your property. All you have to do is decide whether you want the takeover to take place on Facebook, Twitter or Instagram! Tell us what you you would like the takeover to feature, and we'll do the rest!
With a day reserved just for your group or property, you're assured maximum exposure with posts scheduled throughout the day.
And the added bonus, we do all the work for you!

Our Social Spotlight works well for a range of subjects.
Taking the style of an interview, and completed by just filling in a form, you can do it at a time that works best for you. Some of our Infotel members even complete the word document over a few days.
We've found that our clients, fans and followers love to hear hotel news. This includes launching a new menu with locally sourced ingredients and the rationale behind the dishes. And what's on the wine list is always good to know! Or what's happening for Christmas or what's a hit with wedding parties! The range of topics available is pretty extensive. In addition, a social spotlight interview based on 'a day in the life of' is a popular read too. We put the focus on housekeeping teams and gardeners, wedding planners or general managers.
The Social Spotlight is a great tool to introduce new protocols and accreditations like the Visit Britain Good to Go safety standard.
We plan various social media posts to increase exposure of your social spotlight topic, sharing your news with many. And secondly, we link back to your property portfolio so people can easily make a reservation to stay.
Infotel LIVE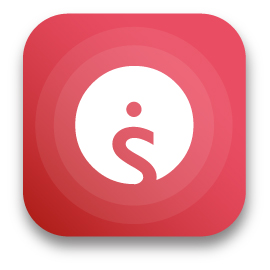 Infotel LIVE lists your latest room availability and rates making it easy for guests to book their stay with you online. Included as part of the Infotel membership, this live booking tool is great for properties that don't have an online booking facility on their website. And, when an Infotel LIVE booking has been made, both you and your guests automatically receive email confirmation of all the details.
Our background
We have over 30 years experience as a free hotel booking service. What makes us unique is every booking made through Infotel is commission free with Infotel membership.
In addition to our call centre reservations service, we receive hotel enquiries and requests for accommodation through the Infotel website. Plus many of our corporate clients have their own Infotel booking portal. This gives them direct access 24/7 to request guests rooms at your property.
For further details on all the benefits of an Infotel membership and to start promoting your property, contact Client Services. You can call on 01775 843406 or email clientservices@infotel.co.uk
We look forward to working with you and making 2022 a successful year.