Boutique hotels always set the scene for an elegant stay. Bringing style and sophistication to a few nights away, they often feature individual and high end design elements that you wouldn't see in a larger hotel. Boutique hotels tend to have more upscale rooms too. Think roll top baths and his and her sinks in a beautifully designed bathroom! Or sumptuous beds and inviting spaces that feel unique and luxurious.
Attention to detail in a boutique hotel is everything; from the original artwork in a guest room and public spaces, to the individual and attentive service that helps a boutique hotel build a reputation for a memorable stay. Pick a boutique hotel for a special occasion like an anniversary or quality time away, and you can be sure your stay will be remembered for a long time.
For the business traveller, a stay in a boutique hotel can also be a refreshing break from the large, more corporate hotels that are found in many cities across the UK.
Barton Hall Hotel
A contemporary yet elegant stay in the heart of Northamptonshire awaits at Barton Hall Hotel. This Grade II listed building boasts a relaxed atmosphere and spectacular views overlooking ten acres of manicured grounds. Not surprisingly, Barton Hall Hotel is considered one of the finest wedding venues in Northamptonshire!
Home to 29 individually styled guest rooms, guests can enjoy super soft linens, WiFi, digital TV's, as well as tea and coffee making facilities. In addition to this, each en-suite bathroom includes a powerful shower and quality toiletries. The warm details of the wooden beams create an inviting touch to an already stylish stay.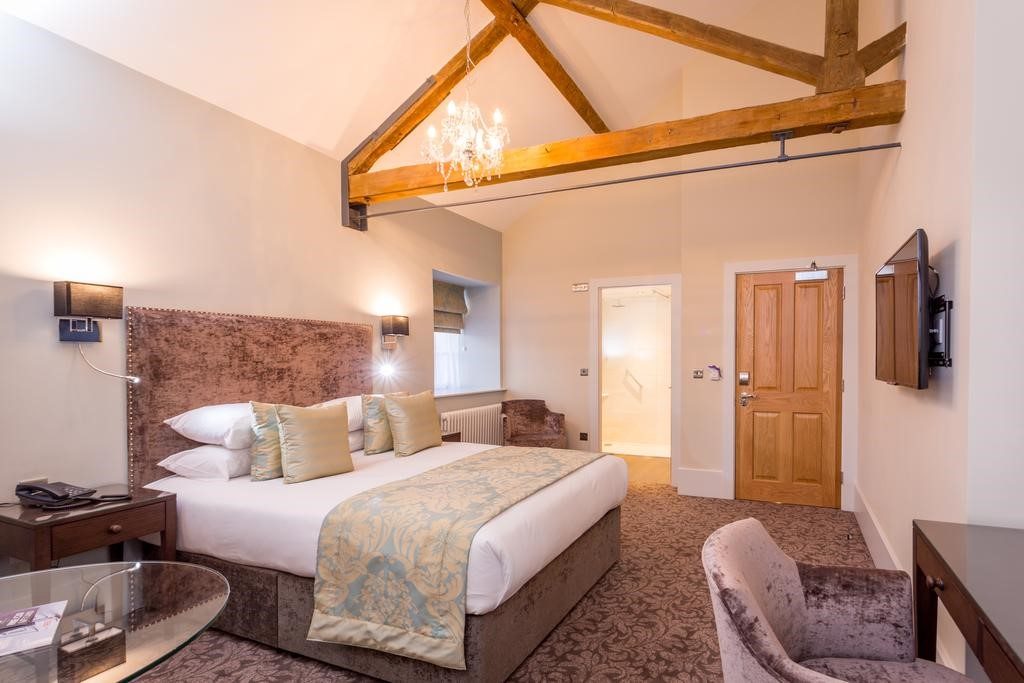 The hotel's Vines Bar & Brasserie offers a friendly backdrop for dinner and drinks. Plus, in the colder months, guests can enjoy a drink besides the warming log fires. The talented team of chefs create mouth-wateringly good food using top quality ingredients. Alternatively, if you're not looking for the full dining experience, bar snacks are also available!
Lace Market Hotel
Nottingham has a long association with lace so a boutique stay that combines period features and trendy designs at the Lace Market Hotel are a perfect combination. Amazing artwork and luxury designs really stand out at this boutique hotel. Ticking the credential for a boutique hotel to have less than 100 guest rooms, the 42 world-class bedrooms offer every comfort. Also on offer are superior rooms that boast indulgent large free-standing baths, original fireplaces and lovely sash windows.
Dining at the Lace Market Hotel is in the gastro-themed Cock and Hoop. Guests can expect delicious meals in a stylish setting and an added bonus is that the hotel has recently been awarded with an AA Rosette which is great news for the team at the Lace Market Hotel as well as for diners! Another option is to take refreshments and light bites such as brunch, in the hotel's Saint Bar. This is also a good place to just kick-back and relax with a gin and botanics or a cocktail from the bar.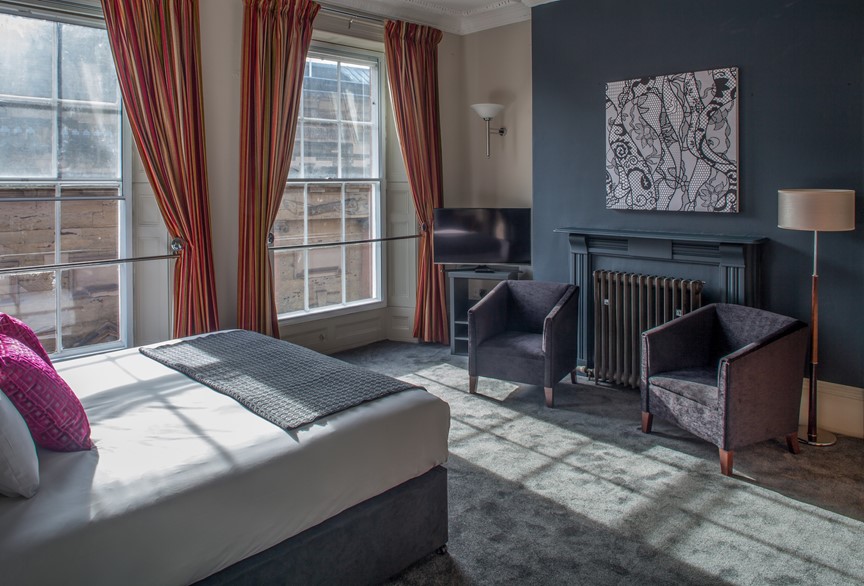 The hotel is located next to St Mary's Church, the Galleries of Justice and the historic Shire Hall. Plus the Motorpoint Arena and the National Ice Skating Arena are just a few minutes walk away making this hotel a good choice for guests who like to combine some icy action or excellent entertainment with their stay. And for getting around the area, Nottingham Train Station is a five minute walk away too.
No 131
No 131 makes a stunning statement with traditional Georgian architecture and contemporary British decor. Regarded as one of the best boutique hotels in the Cotswolds, No 131 has 19 beautifully designed guest rooms. The warm and inviting interiors include statement wallpaper, industrial lighting and antique period pieces. And for art enthusiasts, the works of David Hockney and Bansky bring an added touch of wow-factor to the hotel!
Celebrating the very best of British dining, the hotel's restaurant serves a menu of classic home-cooked favourites and modern European fare. And you're after brunch or late-night drinks, Gin and Juice is the number one destination!
Queensberry Hotel & Olive Tree Restaurant
Queensberry Hotel ticks the box for affordable boutique luxury in Bath. Located in the centre of the Georgian city, it's a fantastic base for exploring the attractions Bath is famous for. And surely visiting the Thermae Bath Spa should be a part of every boutique hotel stay! The two fuse together so well in combing a unique stay with an unusual experience.
This Queensberry Hotel provides a great space to unwind and relax. Guest rooms have a flat screen TV and DAB radio as standard but if you are celebrating a special occasion or indulging in precious time together, consider upgrading to the four-poster suite. It features a huge seven foot bed and a lovely seated area with views over Russel Street. The bathroom makes a statement for indulgence too with double walk through showers. And for anyone who has ever dreamt of having a chaise longue in the bathroom, Queensberry won't let you down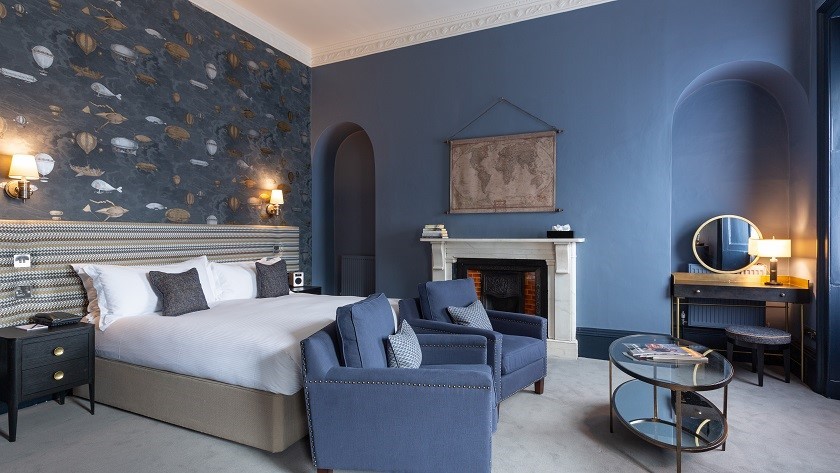 The hotel is host to The Olive Tree Restaurant which is Bath's only Michelin Star restaurant. The Head Chef Chris Cleghorn and his team have created a menu that combine classic flavours with modern techniques. The result is a creation of mouth-wateringly delicious dishes made from fresh and local ingredients. What's not to love about a Michelin Star dining experience? It certainly compliments a beautiful boutique stay by adding to that feel of designer luxury and expert service.
Churchill Hotel
The final stop on our tour of boutique hotels is the stunning Churchill Hotel in York. This luxury Grade II listed Georgian mansion dates back to c1827 and has a wonderful history of when His Majesty King Edward VII stayed during his visit to York in 1898. The room he stayed in is known as the Prince of Wales suite and it features huge arched windows and breath-takingly high ceilings!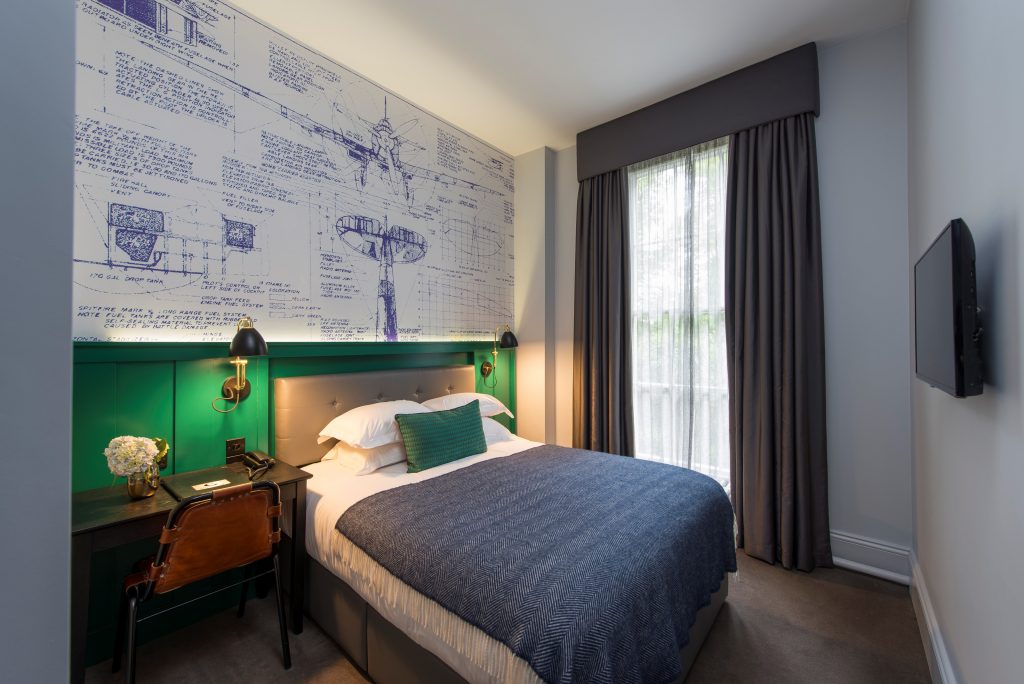 This boutique hotel is about traditional English heritage fused with contemporary design. All of the guest rooms are individually designed and feature bespoke furniture, polished woods and Georgian colours. Plus, the Churchill Hotel is perfectly located for both business and leisure guestswho prefer to be close to the centre.
Dewsnaps is located in the Churchill Hotel and known as one of the finest brasseries in the area. Providing guests with great Yorkshire produce, the current winter menu includes classics such as Churchill Fish Pie, Winston's Burger and the much-loved Sticky Toffee Pudding!
Conclusion
Boutique hotels offer business and leisure guests something different. Unique and individual, charming and charismatic; a boutique hotel concentrates on the finest of everything, from decor to dinning, hospitality to high tea!
Browse an even larger collection of boutique hotels, click here.