Hillthwaite House Hotel offers the ultimate getaway for a romantic escape, family celebration, mid-week break or a summer holiday. Located in the heart of the Lake District, there is so much to do and see; from cycling, hiking and running to relaxing at the hotel and admiring the gorgeous views of Windermere – with a cup of tea and some cake!
Inside the Hillthwaite House Hotel
This well established property provides guests with a five-star service starting with a warm welcome! As well as an incredible location, the hotel's interior and grand design certainly doesn't disappoint.
There are 34 individually decorated guest rooms at the hotel from cosy, classic and family suites. For ultimate luxury, the signature rooms are a must! They offer endless views of Lake Windermere from the comfort of your own balcony. Alternatively, sit back and relax in one of the welcoming armchairs in the gorgeous bay windows. Add in a glass of complimentary wine and you have the perfect scene for watching the sun set!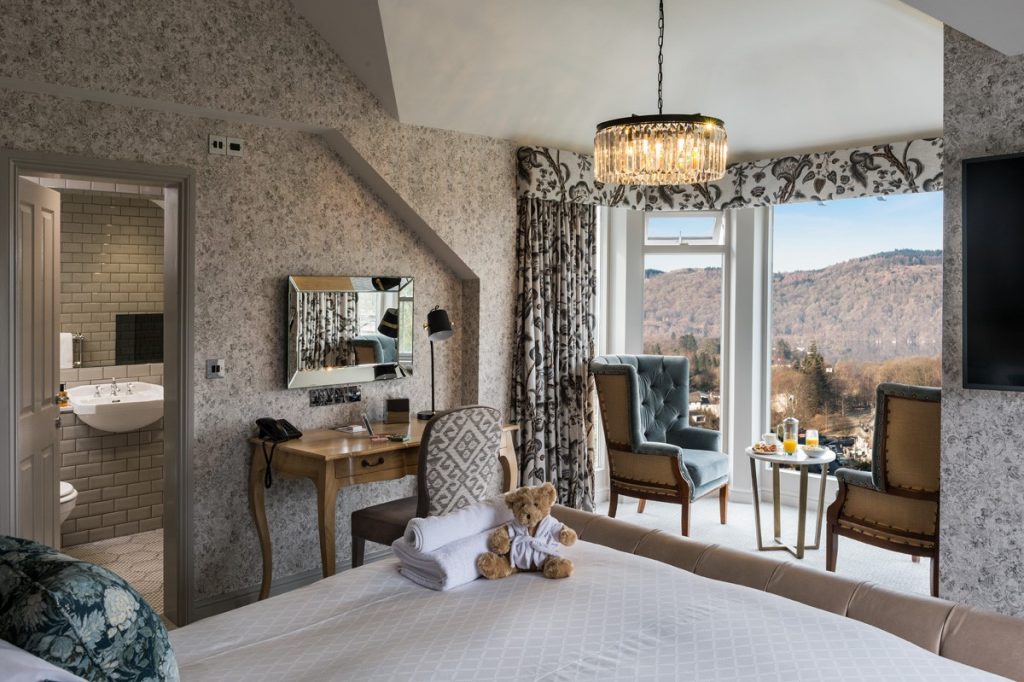 The hotel's comfortable public lounge areas have recently undergone a refurbishment. The Earlston Lounge boasts a cosy log burner and guests can enjoy breathtaking views of the surrounding scenery.
The hotel has a good indoor swimming pool and sauna too.
Dining and Breakfast!
The restaurant and poets bar create a relaxed and contemporary setting. Guests can expect a menu using the very best Cumbrian produce. All of the meat is sourced from the Lake District and fruit and vegetables come from specialist local suppliers. There are plenty of familiar favourites on the menu for lunch and dinner, as well as a dedicated a la carte menu. Enjoy with carefully paired wines.
Start the day with a complimentary cooked to order English breakfast from the restaurant or opt for the continental buffet. Add in plenty of cereals, fresh juices, homemade pastries and lots of tea and coffee, and guests are fuelled for the day ahead!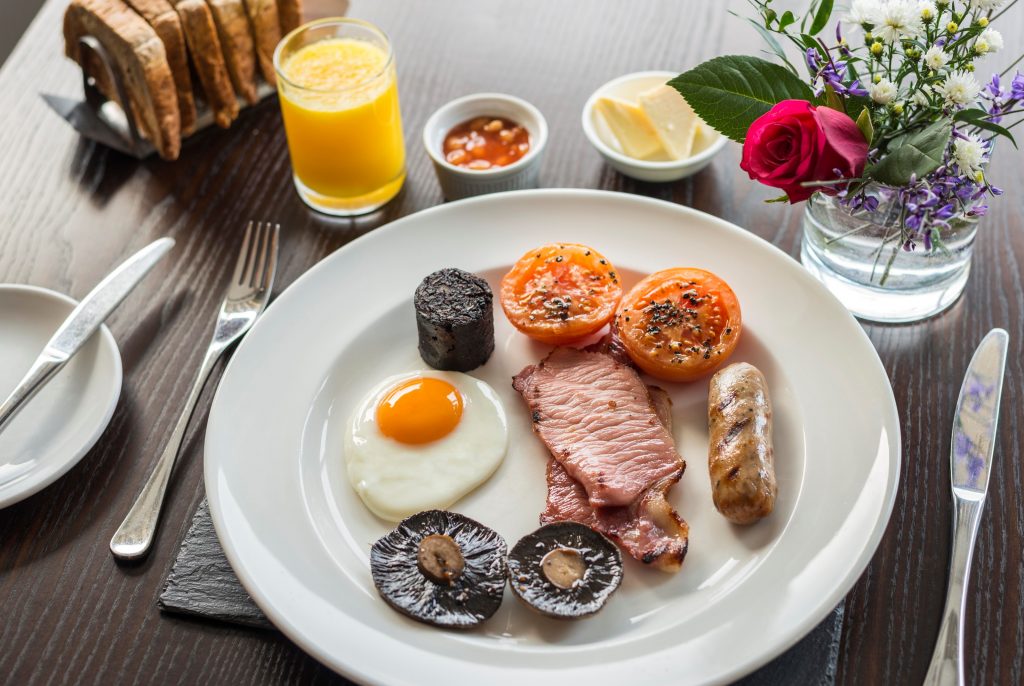 Afternoon Tea is a delightful experience to take in either a bay window, patio or private booth. Enjoy a selection of sandwiches, scones and mini-desserts. All of which are bursting with savoury goodness and local preserves!
Location
Situated in the middle of Windermere and Bowness-on-Windermere, Hillthwaite House Hotels is a great base for exploring the UNESCO national park. And just a ten minute walk from the hotel is Lake Windermere. This is the ultimate hotspot in the summer and the lake cruises are a great way to really take in the 10.5 miles of extraordinary beauty.
If you're a Beatrix Potter fan then a visit to Bowness is a must as it offers an insight into the world of the famous children's author.
Other exciting activities include Brockhole, Crags Adventures, Blackwell and guided walking days.
To book your Lake District break at Hillthwaite House Hotel get in touch with our friendly team. For a limited time, the hotel has an exciting special offer package which includes a discounted stay, breakfast and evening meal plus afternoon tea.
The team are available from Monday to Friday, from 9pm until 5:30pm on 01775 843417.