In case you need four reasons to go to Brighton this summer, we've compiled a list to show you why you need to visit this trendy seaside location! And we have a top hotel suggestion to make your beach break in Brighton even brighter!
Let's start with reason number one and a landmark hotel on the Brighton seafront.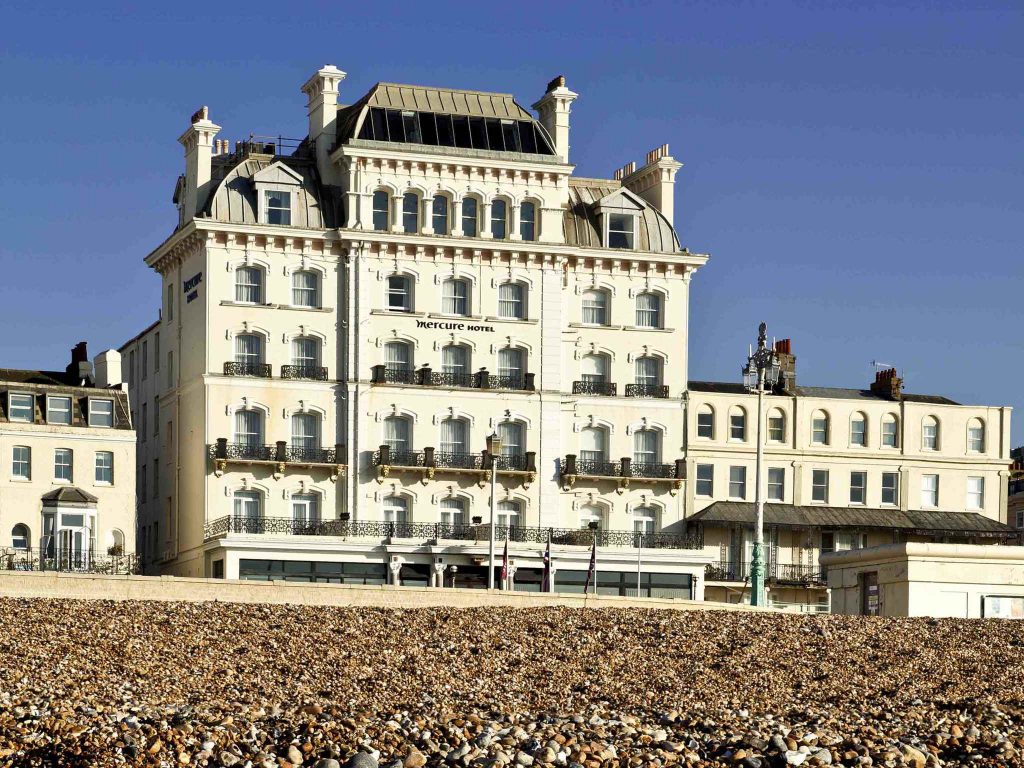 A reason to go to Brighton is Mercure Brighton Seafront Hotel
This 4-star hotel has recently benefited from an elegant refurbishment programme, making it even more desirable for leisure and business guests. As the pictures show, the creatives behind the refurb have carefully combined original Victorian features with modern day comforts and a touch of essential Brighton quirkiness.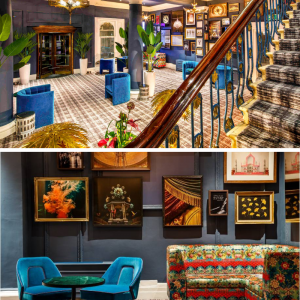 With sparkling lighting and feature mirrors, high ceilings and beautiful bold colours, it's a stylish setting that greets hotel guests. And it's a theme that continues from the hotel lobby, trendy bar and restaurant through to the new en-suite guest rooms.
Reason to go to Brighton this Summer: Wining and Dining
The colour palette of inky blues continues into the lounge which is now home to an exciting gallery featuring the creations of local artists. And guests will notice the bespoke carpet too. It's themed on the ripple effect that the sea leaves when the tide goes out and is really effective. This is a relaxed area for enjoying a coffee and a catch-up or planning your day in Brighton.
Keeping its community connections, the hotel has used salvaged pieces from Brighton's West Pier in the NH Bar, which is a superb sport for afternoon tea with a glass of fizz or an early evening cocktail.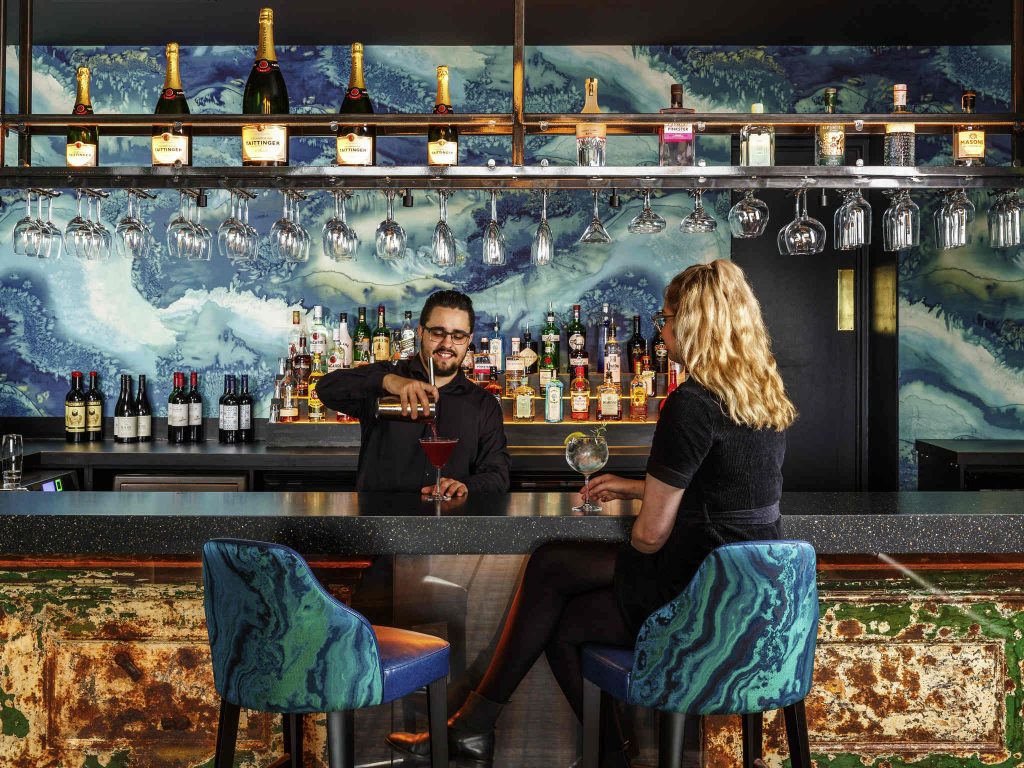 Open every evening, the Goulty Restaurant serves an international menu using local produce. Guests can certainly appreciate the panoramic views of Brighton while they can linger over the delicious desert menu! What can be nicer than looking out over Brighton beach and further out to sea on a balmy summer's evening?
Location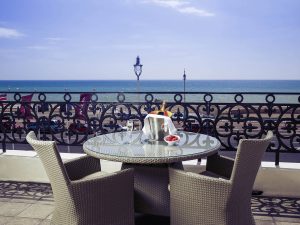 The Mercure Brighton Seafront Hotel is certainly in an enviable location on the Kings Road. The dramatic charred remains of the West Pier are within walking distance. The thrill of seaside rides and roller coaster twists and turns on Brighton Pier are just a short walk away.
As the name of this 4-star hotel suggests, the Brighton seafront can be fully appreciated from the hotel. And only streets away, Brighton's famous and fabulous Lanes are located; perfect for unique and quirky boutique shopping, independent dining, bars and cafes.
The varied attractions are a good reason to go to Brighton this summer
Whether you're a first-time visitor or frequently visit Brighton, a stroll along the seafront is always enjoyable. Because there's lots to keep visitors engaged with all the different attractions it's impossible to be bored. Our tip is to take a slow meander from Mercure Brighton Seafront Hotel to Brighton Marina. The Victorian Bandstand has it's own cafe as well as a programme of events. Its located opposite the hotel so is a good starting point for a summer's walk.
The giant glass viewing pod, British Airways i360, is the next landmark attraction en-route. At 450 feet high, the view of city landmarks and rolling coastline is quite something.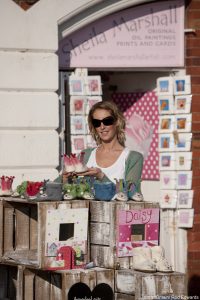 Back down on terrafirma and the West Pier arches provide an excuse to shop designer gifts and home ware. Continue walking in the direction of Brighton Palace Pier and allow some time to visit Brighton Fishing Museum too.
Just west of the pier, on the lower promenade, along with the Fishing Quarter, you'll find the Artists' Quarter. The former fisherman's arches have become studios for local artists to showcase and sell their work. If you like unusual and unique souvenir shopping, a stroll through the Artists' Quarter will bring up some surprises.
Brighton Marina is a great reason to go to Brighton!
From here you can board the world's oldest operating electric railway and take the short journey on Volk's Electric Railway to Black Rock. This was the location of Brighton's art deco lido which was demolished in the 70s after falling into decline. Just round the corner is the bustling Brighton Marina where you can charter a boat for a day of fishing or diving. The Marina is a superb spot for people and yacht watching! With sailboats moored at the quay and yachts coming and going, sitting in one of the restaurant's terraces with a carafe of something chilled, watching the world go by is very relaxing! Brighton Marina caters for the shopper too with boutiques, craft shops and an entertainment complex too.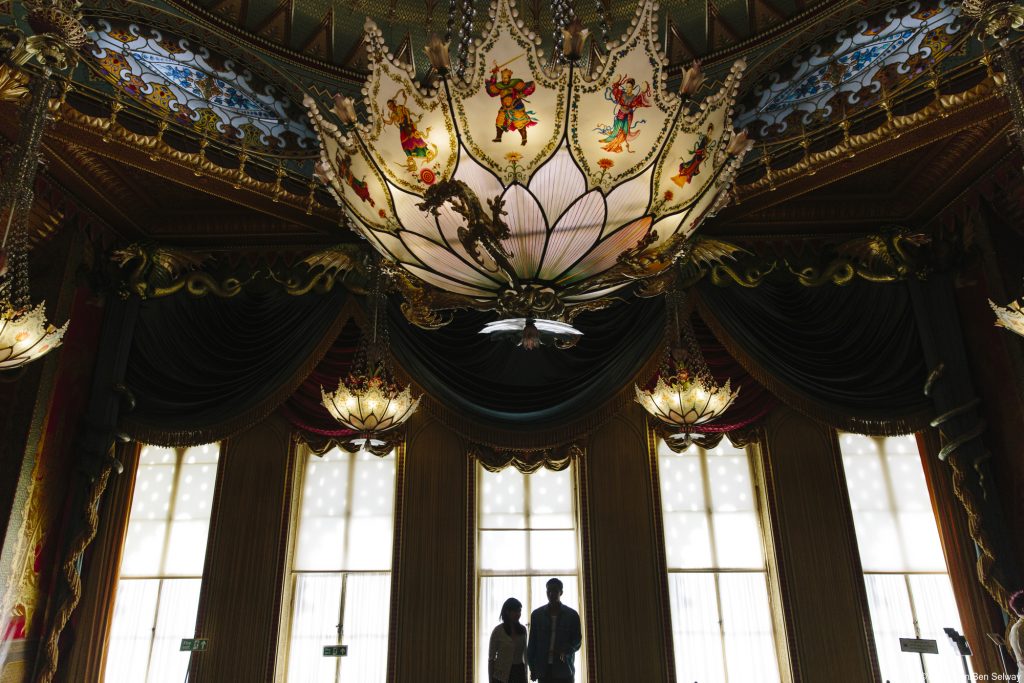 For history buffs, Brighton has a multitude of museums and for art lovers, there are galleries galore. The landmark Royal Pavilion should be on the must-see list too. The Regency palace is a striking point in Brighton's landscape and visitors cannot fail to notice due to its architecture. With stunning interiors, the Royal Pavilion definitely wows on all levels. It's easy to enjoy a tour around the palace and its gardens. Additionally, visitors are advised to allow time for a delicious afternoon tea in the Royal Pavilion Tearoom too!
Conclusion
We've only given you four reasons to go to Brighton this summer! The actual list is much longer! In addition, visitors to Brighton have a great choice of nightlife. For families there is also Brighton Seaworld to discover as well as Brighton Pier. There are an array of restaurants and different cuisines to enjoy plus gin and wine tours too. And remember, the vibrant and welcoming Mercure Brighton Seafront Hotel is an ideal hotel stay.