So we appreciate Easter is on the way and we should be obsessing over chocolate! However, the tradition of eating fish on Good Friday had us thinking where in the UK would we like to be tucking into fish right now? Would we opt for catch of the day served on a porcelain plate, enjoyed in a plush hotel restaurant with a nicely chilled bottle of white? Or would it be fish and chips with lashings of salt and vinegar, wrapped in paper and eaten with a ridiculously blunt wooden fork off a polystyrene tray, set to a backdrop of seagulls swooping and waves crashing? And as its Easter, it's probably raining too!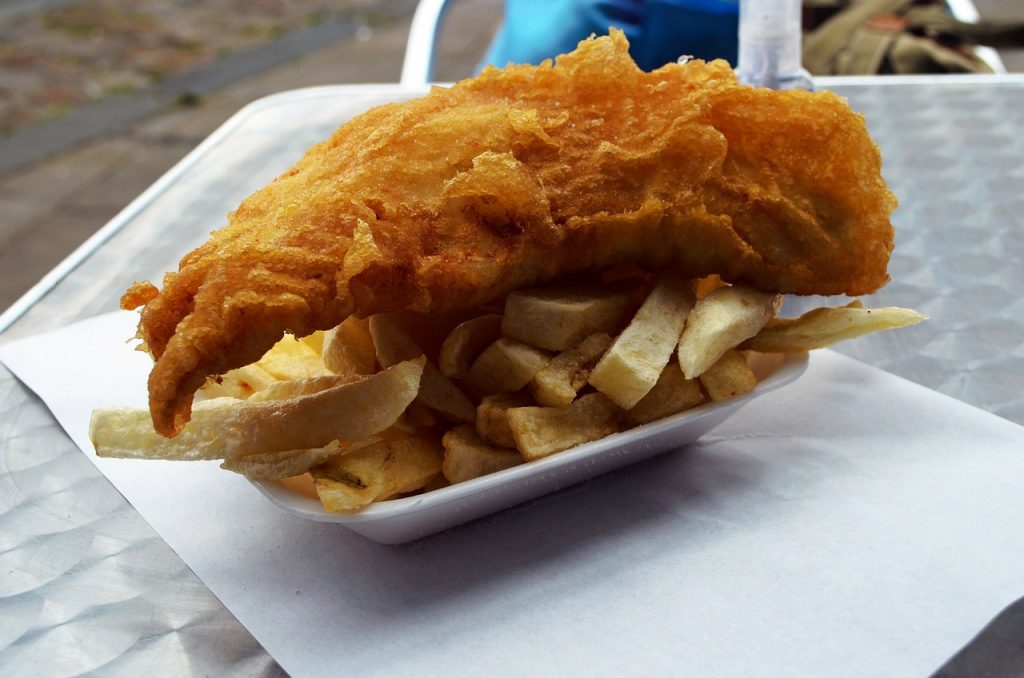 Yes! It has to be fish and chips at the seaside every time! You can disregard the dunking donuts and ditch the candy floss but forget the fish and chips? Not on this watch! With the four day Easter break approaching, it's the perfect time to escape for a few days away. We've selected four fabulous places to stay. Here you can enjoy traditional fish and chips at the seaside or you can sit-down with a napkin on your lap and enjoy the fine service and food which accompanies a lovely hotel stay.
Fish, chips & a trip to Scarborough
Scarborough has a long history of attracting holiday makers and weekend guests and it's definitely on the map for international tourists too because of attractions such as Scarborough Castle. It developed as a spa town in the 17th century and became a huge hit with the Victorians in the 18th century. This was when doctors began prescribing bathing in the sea water. The spa resort of Scarborough went on to become a bustling seaside resort. In addition it had a thriving fishing port too.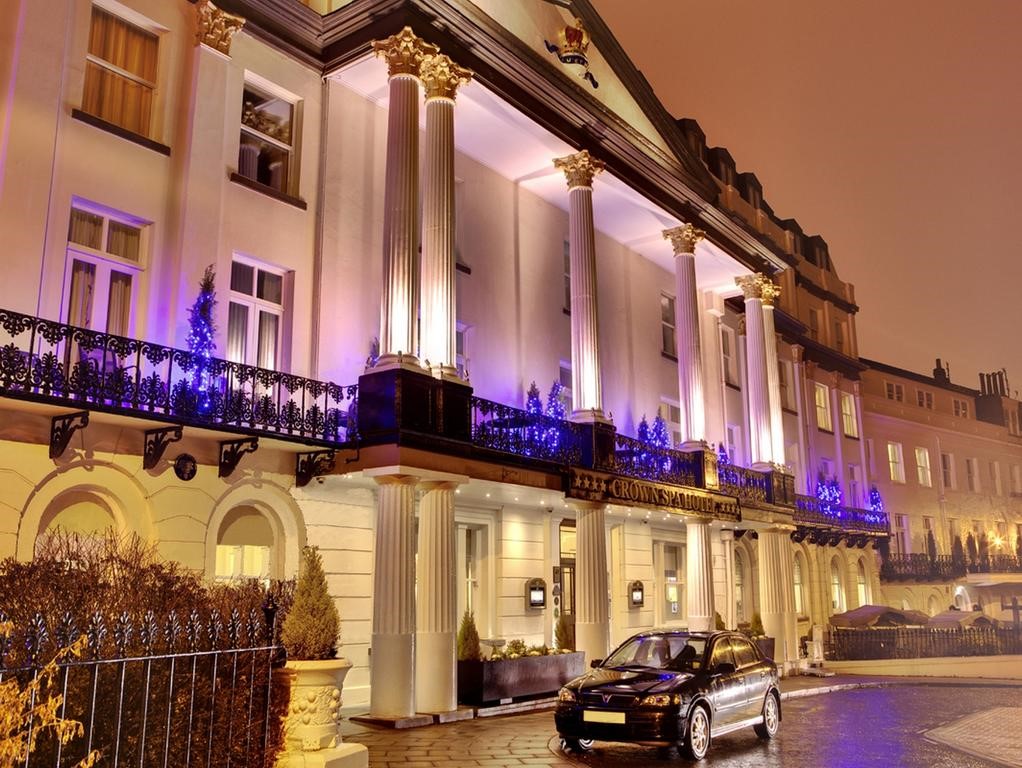 Just a few metres from the sandy South Beach of Scarborough and located along the town's esplanade is the Crown Spa Hotel Scarborough by Compass Hospitality. As the seaside town's only 4-star hotel and Yorkshire's highest rated AA coastal hotel, it's a popular choice. Along with comfortable en-suite guest rooms and suites, the hotel has relaxing spa facilities, an indoor pool and fitness suites and classes.
It's a ten minute walk into the town from the hotel for take away fish and chips. Northbay Fisheries on Columbus Ravine is serving award-winning fish, chips and mushy peas to new and returning customers who make a point of always visiting this highly rated fish and chip restaurant in Scarborough.
The restaurant has a delicious menu which changes seasonally and there are usually four fish dishes along with a good selection of meat and grill options. For fans of that other British tradition of afternoon tea, the Crown Spa Hotel serves a lovely one!
A bite in Brighton
It's all about the sea and what you can see at the Best Western Princes Marine Hotel! Located on the seafront in Hove, Brighton, the guest rooms have private terraces so you can step outside and smell the sea air. It's also a good spot to indulge in the craft of people watching! The centre of Brighton is only two miles away so exploring The Lanes or fishing from the pier is possible. If you are missing a chocolate fix over the Easter weekend, then make sure you visit Choccywoccydoodah's Mothership in The Lanes! It's a chocoholic's dream come true with indulgent handmade chocolates, a Bar du Chocolate café and a cake garden!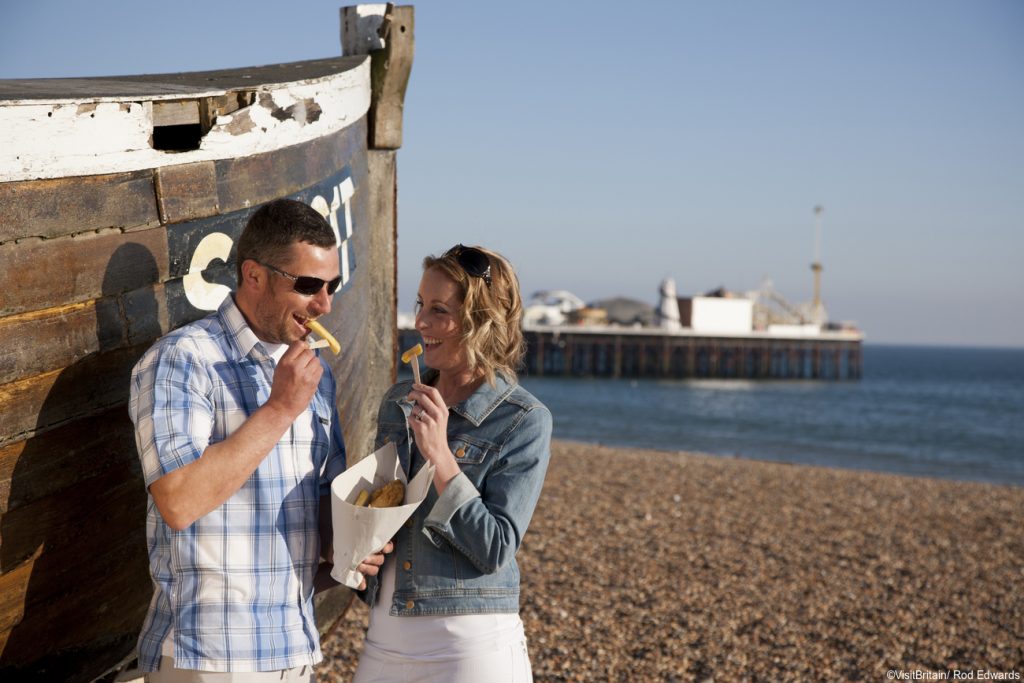 And when it comes to fish and chips, the choice is excellent too. Brighton and Hove benefit from lots of chippies that date back over the decades. Surely a sign they're getting their fish fresh and their batter light and crispy!
Back at the Best Western Princes Marine Hotel, dining at the Channel View Restaurant spoils guests with spectacular views and traditional and international cuisine.

Rick Stein's fish and chips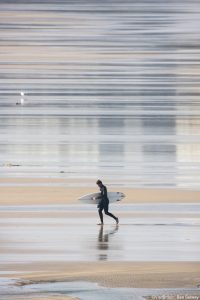 Why not experience Easter in Newquay? This Cornish seaside resort is a real adrenaline junkies' playground with spectacular beaches, crashing surf and majestic cliff top views. For a fabulous fish and chip fix there really is only one place; Rick Stein Fistral. The laid-back restaurant serves Rick's famous fish and chips for just over £10. In addition, there's the tasty dishes inspired by his Asian travels.
The restaurant doesn't take reservations so you may need to wait for a table. Along with amazing food and superb views over the famous surfing beach, Rick Stein Fistral is dog-friendly and child-friendly too!
For your hotel stay in Newquay, our website has a good choice of budget to 4-star hotels and B&Bs which you can see here.
Easter in Jersey
With the title of Casual Dining Restaurant of the Year (2018), Cheffins at the Beaumont Inn will more than satisfy a craving for fish and chips! You'll probably be torn between the freshly battered cod and triple cooked chips, or the hand-picked white crab or hand dived Jersey scallops! And then there's the salmon!
And when it comes to deciding on a guest room at this stylish inn, you will be equally impressed with the design and attention to detail. The five en-suite rooms feature bold and vibrant colours, a welcoming king-sized bed, a hospitality tray and complimentary toiletries and WiFi. With the beach just a stone's throw, some of the rooms also offer sea views.
Jersey measures just nine miles by five and there is plenty to see and do over the Easter break. Seafaris and kayak hire to high rope adventure are perfect for the thrill seekers! Sandy beaches and scenic coastal drives are great for those who prefer a gentler pace. And for history buffs, the military and heritage museums are fascinating. Plus you will have timed your stay in Jersey perfectly to coincide with Jersey Royal potato season!
To enjoy fish and chips this Easter from the beachside or from the comfort a welcoming restaurant or hotel, visit our Great British seaside collection here.
Alternatively, the team are available to take calls from Monday to Friday, 9.0am – 5.30pm on 01775 843417.